Massage Therapy in Hoppers Crossing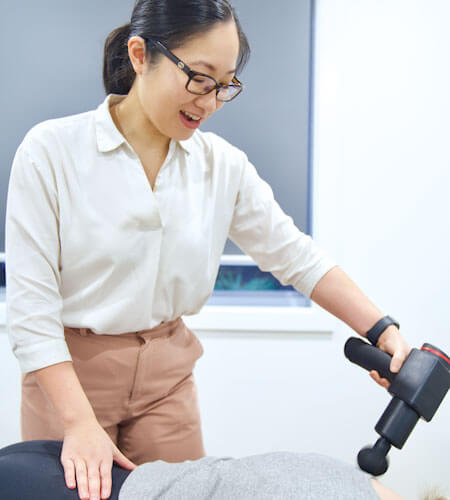 Massage therapy is an ideal complement to chiropractic care. While chiropractic's focus is on restoring mobility to the joints to alleviate nervous system pressure and interference, massage therapy focuses on the muscles and other soft tissues.
The combination of chiropractic care and massage therapy can help facilitate healing, particularly with chronic ailments or in patients suffering with a lot of stress.
New Patients

Our Approach
At Thrive Chiropractic and Wellness, we offer remedial massage that is a combination of relaxation, sports and deep tissue massage. Our massage therapist, Zephyr Tran, is passionate about helping patients move and function at their best by reducing pain and improving mobility. She has several years of experience, including many years as a massage therapist for sports teams such as Richmond Football Club (AFL).
Zephyr and her sister, chiropractor Dr Danie Tran, work together to provide our patients with the best results possible. If you aren't sure what type of massage would be best for you, Zephyr can make recommendations based on your needs and goals.
Other Soft Tissue Therapies
In addition to massage, we can incorporate cupping and dry needling into your soft tissue therapies. Dry needling is an excellent therapy for releasing tight muscles and trigger points, using fine acupuncture needles. Cupping involves placing cups on the skin to produce suction, which may promote healing by increasing blood flow to the affected areas.
All of our soft tissue therapies are tailored to your needs and comfort level. We strive to ensure that you feel relaxed and stress-free in our office, to reduce tension in your nervous system and allow optimal healing.
Find Out More Today
Contact us today to learn more about our massage techniques and other soft tissue therapies, or to book your appointment. We look forward to welcoming you.

Massage Therapy Hoppers Crossing VIC | (03) 8087 0555