Cupping in Hoppers Crossing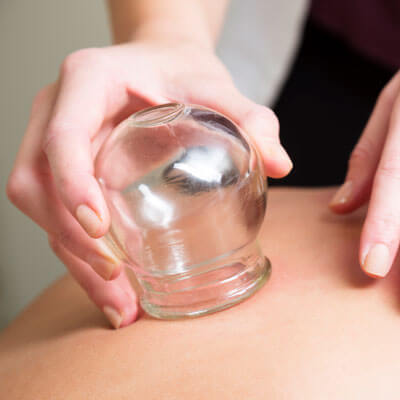 Cupping therapy is an ancient form of alternative medicine. The process enhances circulation and supports the body's natural healing processes. This modality may help relieve pain, reduce inflammation, increase blood flow, and promote relaxation and wellness.
How It Works
Special round cups are placed on the skin for a few minutes to create suction, which helps relax muscles and connective tissues, and promotes blood flow to the area. Cupping could complement an existing care plan to relieve symptoms or be incorporated into an overall wellness regime to support and maintain health.
Frequently Asked Questions
The cup uses air pressure to create suction. It is not hooked up to any mechanical equipment, so you can experience your session in peace.
There is often some discolouration in the immediate area where the cup was applied. The process can cause broken blood vessels under the skin, much like a bruise, but you should heal in 7-10 days. The other alternative option is sliding cupping – which promotes relaxation and helps ease muscle tension – this does not leave a mark
Most people find it therapeutic benefit and gives them relief. It usually does not hurt
This therapy is appropriate for most people, including athletes, people with work-related stress, and those who want to enhance their health. If you're not sure if you can receive the therapy, please
contact the practice
.
What is an alternative to this ancient healing therapy?
If you'd like to
explore other services
that may enhance your wellbeing, we invite you to
contact the practice
 to discuss your individual needs. Once we understand your goals, we can recommend care options for you.
Book an Appointment
Contact us today to schedule an appointment!
Contact Us

Cupping Hoppers Crossing VIC | (03) 8087 0555