Products in Hoppers Crossing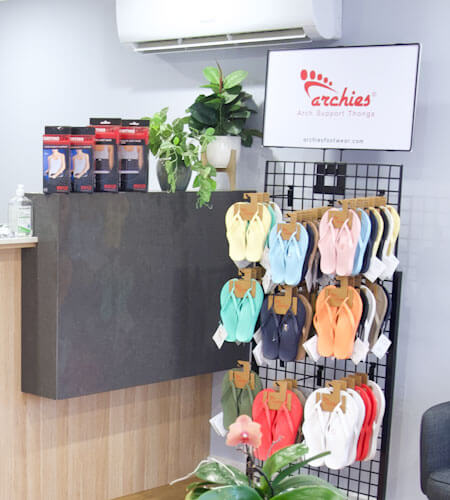 At Thrive Chiropractic and Wellness, we're committed to helping you achieve your health and wellness goals through gentle, precise chiropractic adjustments, exercise rehab and supportive soft tissue therapies. But we don't stop there! We want to help you improve your function and mobility even when you're not in our office. We offer various products to help do exactly that.
Pillow Fittings
We carry a wide variety of Complete Sleeper brand natural pillows. The pillows come in different sizes and shapes, and we can help you select a pillow that may help minimise your recurring or chronic neck or shoulder issues.
Archies Supportive Thongs
Archies flip-flops are made of a special material and patented footbed to provide support comparable to orthotics. Unlike flat thongs, these help create improved postural alignment by putting your feet in the biomechanically correct position. This can lead to less strain when walking, quicker recovery, and happier, healthier feet.
Posture Braces
We offer posture braces in a range of sizes. Using a posture brace can help retrain your muscles to hold the alignment we seek to achieve with your adjustments. Proper posture can help alleviate shoulder, neck and upper back tension, as well as fatigue and headaches.
Heat Creams/Patches
To help relieve muscle pain and tightness between appointments, we carry heat creams and patches.
Schedule Care Today
Contact us today to get started with care.
Contact Us

Products Hoppers Crossing VIC | (03) 8087 0555